Khajuraho India, Kama Sutra,Sanchi,Madhya Pradesh,Khajuraho Dance Festival India,Gwalior,India Music,India Tours,India Attractions,Temples India,Sari !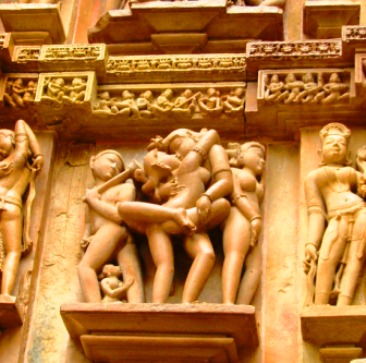 Khajuraho India...Union of the Gods,Madhya Pradesh :" Body, Mind & Soul..Nirwana India! "!!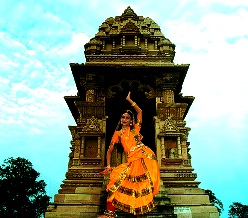 India Tours..Khajuraho India!...
Madhya Pradesh (Hindī: मध्य प्रदेश),often called the 'Heart of India', is a state in central India. Among major India attractions, this state straddles the 'Narmada River', which runs east and west between the 'Vindhya' and 'Satpura' ranges. A discovery on Ancient India religion, this central region on the India map, is bordered on the west by Gujarat and on the northwest by Rajasthan. This part of Incredible India is marked on the northeast by Uttar Pradesh, on the east by Chhattisgarh, and on the south by Maharashtra. Important towns are the capital city of Bhopal,famous School of India Music,Gwalior and tourism high spots like Khajuraho,Sanchi,Orcha,Panchmari and Jabalpur. Exciting India vacations can be enjoyed in some of the best India Wildlife reserves.
'Khajuraho'..,home to the famous temples of India, gives a unique insight, to many lesser known facts about India. A Spiritual journey to the era of Kamasutra India,..exploring, sensual 'Nirwana'. Madhya Pradesh enjoys all festivals in India, like Deepawali, Holi, Eid, Basant Panchami and Christmas.
Typical to the state, are India's fairs n festivals of the native Bhils and Bhilalas, starting from 'Bhagoria Haat', Jhabua..where, the young choose their life partners in spring. Feb/Mar, bring with them, the India Classical Music and Dance Bonanza of the famous 'Khajuraho Dance Festival', India. The finest exponents of different classical Indian styles are represented - Kathak, Bharatnatyam, Kuchipudi, Odissi, Manipuri, and many more..in the magical dusk lit backdrop of 'Khajuraho Temples' !
---
Copyright 2022-2023
www.taj-travel-india-miniguide.com
All rights reserved. Use of this website constitutes acceptance for the terms & use of privacy policy.
**For Travel to India/Bhutan/Nepal & Tibet**