Rishikesh Haridwar,Yoga,Ganga India,Gangotri Trek,Mussoorie,Nainital,Badrinath,Kedarnath
Rishikesh Haridwar...Ganga Aarti,Haridwar,Uttarakhand,India:" In my giving is the Eternal Song of Life "!!
Rishikesh Haridwar..Festivals of India!...
Uttarakhand (Hindi: उत्तराखण्ड Uttarākhanḍ)Carved out of the Himalayas, 'Uttranchal' or 'Uttarakhand' as it is now known, is a state located in the northern part of India. It borders the Tibet Autonomous Region on the north, Nepal on the east, the Indian state of Uttar Pradesh to the south and Himachal Pradesh to the north west.
Legend of the 'Ganga'
From Gangotri in Gaumukh at an elevation of 3,892 m (12,769 ft), the Bhagirathi and the Alaknanada river from Satopanth, meet at the holy Devparayag, to become the ancient legend of River 'Ganga'. After flowing 200 kilometres (120 miles) through its narrow Himalayan valley, the Ganges debouches into the Gangetic Plain at the pilgrimage towns of 'Rishikesh/Haridwar'. It is believed, that the origin of this holy river is born from the 'tapasya'(meditation) of the famous King Baghiratha, who brought the 'Ganga' down from the Heavens, for the salvation of all mankind. So as not to flood the entire Earth the verocity of the Ganges had to be entwined in the lock of hair (Jata) of Lord Shiva before it descended on Earth. For Hindus in India, the 'Ganges' is not just a river but a mother, a goddess, a tradition, a culture and much more...!
All facts about India would be incomplete, without mention of the celebrations of the 'Ganges', in its myriad forms of worship. The famous 'Kumbh Mela', which happens every twelve years at Haridwar and Allahabad, attract pilgrims from all over the world. Any book which tells you all about India, will relate the 'Char-Dham' pilgrimage of Badrinath, Kedarnath, Gangotri and Yamunotri, an ultimate sacred journey for any 'Hindu'. Many of us take our last salvation of the soul here. The famous 'sati', consort of Lord Shiva self immolated herself in the holy pyre here and the Legend of 'Bum Bum Bhole' was born in this Himalayan state. The mountains of Uttarakhand are alive during the 'Festival of 'Shivaratri' during February/March, with prayers to the divine couple of Shiva n Parvati, in the holy cities of Rishikesh Haridwar !
Health and Healing Program in Dharamsala/Rishikesh..A Video preview :
Music in the Skies
---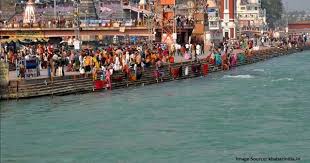 Clean Ganges !
---
Copyright 2018-2019
www.taj-travel-india-miniguide.com
All rights reserved. Use of this website constitutes acceptance for the terms & use of privacy policy.
**For Travel to India/Bhutan/Nepal & Tibet**