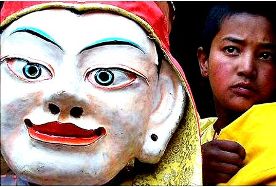 News Alert...Kashmir-Ladakh..
On the occasion of Eid al Adha, the State of Jammu & Kashmir and Ladakh have become  Union Territories. We wish the people a Happy future ahead !
Kashmir-Ladakh..
The daily masks we wear, would make life the biggest opera of all times ! However as an intrinsic art & craft, celebrating the ancient folklore and tradition of India..mask-making, is popular in many states of our country.
Adorning the walls for ushering holy blessings or for keeping the 'evil eye' away, these traditional masks color the panorama of India. As a dance opera they are used frequently in classical and tribal art forms in the Northern India Himalayas.
The festivity of Jammu & Kashmir will fascinate your travelling pen as it scripts its buddhist journey in Ladakh, India. With the passes opening in July the Hemis Festival in Leh-Ladakh is a major tourist experience..!
---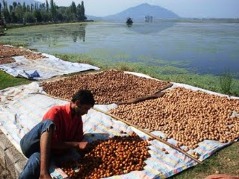 "Kashmiri Fruits"
From the flaming colors of the South, to the devotional chants of 'Sai Shirdi Baba', which echo right upto the Northern Himalayan peaks...India, is fascinating in its flamboyant vitality.
The state of Jammu and Kashmir, is vibrant in Winters with the snow and 'kangri'(hand coal heater)..nothing better to sip than the Kashmiri spice tea (Kauwa), laced with gossip and crackin 'walnuts'!
Rich in diet fibre the walnut enjoys an ageless season with all generations..young n the old.
---
Enjoy Himalayan Holidays in Dharamsala India
---