Rajasthan, India..
From ages Man has shared an unique bond with his animals for protection, companionship and sometimes even for the thrill of a hunt.
In the desert state of Rajasthan in India, the camel is always an occasion. Through many years of history, it has transported its master from Jaisalmer to Bikaner and provided its comfort to a street alive with the buzz of humming human souls,..arguing their bargains..selling their wares !
Today, many a tourist will remember his shared evenings with the 'ship of the desert'. While waiting for the sun to set, an evening bonfire with folk music and dance, the desert culture of Rajasthan will be captured in any visiting camera !!
Let the Hump walk you, to an exciting Camel Safari in the Desert !
---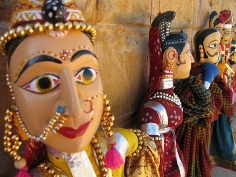 Rajasthan, Puppetry India..
Our 'postcard sessions' in our holidays are, important moments of sharing diary notes with the host and fellow travellers. Stray thoughts like thrown paper on a street..
The art of Puppetry from ancient India, is considered a blessing of the divine dance of Shiva and Parvati. Legend has it that the lifeless wooden dolls of a carpenter were imbued with life to humor the Gods and thus was born the craft of puppetry. The roaming 'banjaras'(gypsies) of Rajasthan practise this form of entertainment bringing many a color to the fairs and festivals of this hot desert. A carbon friendly activity its workshop, involves drawings, painting, wood carving, carpentry, plaster cast making, clay modeling, costume designing, story, script writing, dramatization, song and music composition. Did you know.. in Rural Rajasthan, puppet shows are organised to ward off evil spirits and to bring rain and prosperity in the lives of villagers.
Like the love of all seasons and old habits, originality dies hard..and sometimes like tradition, it never does..!
---
Enjoy Himalayan Holidays in Dharamsala India
---