Punjab,Golden Temple,Guru Nanak,Chandigarh,Wagah Border,Sikh India Culture !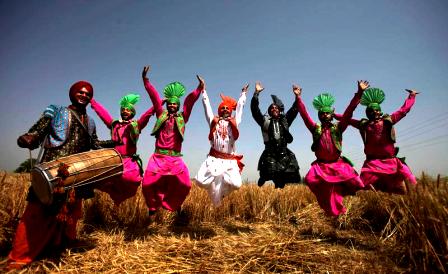 Punjab...Baisakhi Mela,India:" A Celebration of Green Earth "!!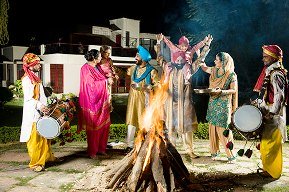 Fairs of India!...
Punjab (Hindi: पंजाब) is a state in northwest India. The state is bordered by the Indian states of Himachal Pradesh and Jammu and Kashmir to the northeast, Chandigarh to the east and Haryana to the south, with the Pakistani province to the west. The rustic charm of this Sikh community comes from its main industry of Agriculture. This culture of India, is alive with India music of Bhangra beats and Hola Mohalla Games ! Other major cities include Amritsar, Bathinda, Pathankot, Hoshiarpur, Patiala and Chandigarh as the urban hub.
The main festivals of this state, throb with modern rap music which echo the robust spirit of the state. Teej, Baisakhi all celebrate the bounty of a good earth. The Golden Temple in Amritsar, is always a revered shrine by the Sikh disciples of Guru Nanak Dev and Guru Govind Singh.
'Lohri' is celebrated as a winter solstice in late December/ January. Children sing folk lores of Dulla Bhatti and evenings are alight with song and dance around the bon-fire. Lohri is traditionally associated with the harvest of the rabi crops. People take peanuts, rewri, flour, butter and various food items to places of religious worship to thank God for a good harvest.
---
Copyright 2022-2023
www.taj-travel-india-miniguide.com
All rights reserved. Use of this website constitutes acceptance for the terms & use of privacy policy.
**For Travel to India/Bhutan/Nepal & Tibet**